Carr and Carr first opened its doors in 1973 as a father-and-son team. A little more than 45 years later, Carr and Carr represents injured Oklahoma workers across the state and has offices in Oklahoma City and Tulsa.
With a legal staff of more than 30 talented individuals, Carr and Carr has the time, talent, and resources to help you get the compensation you deserve after an injury.
1350 SW 89th St,
Oklahoma City, OK 73159
Ph: 405-691-1600
M-F – 8:30 AM – 5:30 PM
From 240 take exit 2A toward S Western Ave.
Head South on Western Ave. Turn right after the Bank of America on SW 89th st.
The office will be on the left in 0.6 miles.
Meet Our Oklahoma City Injury Attorneys
Our attorneys fight for your rights, whether your claim involves an insurance company, a huge corporation, or a federal, state, or local governmental agency.
Our lawyers have helped people who have suffered a wide range of injuries including catastrophic brain and spinal injuries. These injuries occurred in automobile collisions, railroad accidents, oil field blowouts, plane crashes, elevator malfunctions, and slip-and-fall accidents, to name just a few circumstances.
If you've been injured, do not hesitate to contact our office and schedule your free consultation.
C. Greg Smart
Greg Smart joined the firm of Carr & Carr in 2006.
Before joining the firm, he was associated with the law firm of Brady, Schaulat & Falsetti in Oklahoma City, where he concentrated his practice on personal injury and negligence litigation.
That included representing people in semi and auto accidents, premises liability, product liability, nursing home negligence, and insurance law disputes.
Read the Rest of Greg Smart's Bio here.
---
Thomas K. Ventura
Thomas K. Ventura began working at Carr & Carr in the Oklahoma City office in 2013. An experienced personal injury attorney, he spent the first eight years of his career working for another local law firm.
Thomas has focused his entire legal career on helping people injured as a result of motor vehicle accidents, slip and falls, dog attacks, and many other types of injuries.
He has negotiated with insurance companies and tried cases to juries resulting in millions of dollars recovered on behalf of his clients.
Click here for his complete biography.
---
Christopher L. Brinkley
Chris Brinkley has called Oklahoma home for nearly his entire life.
After earning his undergraduate degree in aerospace engineering. Chris returned to school at the University of Tulsa College of Law where he was a member of the Phi Delta Phi legal honors fraternity and graduated with a Juris Doctor in 1994.
Chris has focused his practice on product liability, wrecks caused by tractor-trailers, and other areas of personal injury.
You can find Chris's full bio here.
---
Brian A. Williams
Brian A. Williams joined the Oklahoma City Carr & Carr office in May of 2017. Previously, he spent 11 years representing Oklahomans as a personal injury attorney in federal, state, and workers' compensation courts.
Brian has spent his entire career focused on cases involving Social Security, wrongful death, slips and falls, car accidents, and on-the-job injuries.
With more than 1,000 cases resolved, resulting in millions of dollars of settlements, Brian is not afraid to stand up to insurance companies and corporations. His favorite part of his job is advocating for his clients. Click here for his full bio.
---
Blake Beeler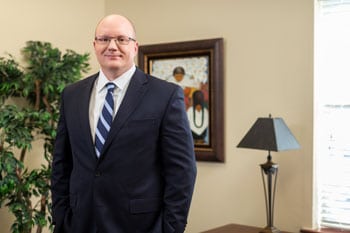 Blake Beeler was born and raised in Oklahoma City, Oklahoma. He graduated from Casady School in 1994. Beeler attended the University of Oklahoma graduating with a degree in history in 1998. He then attended the University of Oklahoma College of Law graduating in 2002.
Blake has spent the bulk of his career representing persons injured by the negligence of others. He has litigated cases in all four corners of the state as well as all three Federal District Courts in Oklahoma.
Click here for Blake's full bio.
---
Ryan Dexter
Ryan Dexter has focused his legal career representing clients in Social Security Disability cases for over 10 years. He has helped thousands of people across the United States who have become unable to work due to various physical or mental impairments.
Dexter has represented clients at all levels of appeal with the Social Security Administration and handled Social Security appeals to the United States District Court. Dexter understands that when injury or illness interferes with a person's ability work, it puts that person in a vulnerable position financially, mentally, and emotionally.
Click here for Ryan's full bio.