If you've been injured by someone else's recklessness or negligence, let Carr & Carr be your legal advocate. We have been fighting for injury victims in Oklahoma City for over 50 years and have the skills, determination, and experience to get you the monetary compensation you deserve. To schedule a free consultation with a personal injury lawyer in Oklahoma City, call (405)-691-1600 .
1350 SW 89th St,
Oklahoma City, OK 73159
Ph: 405-691-1600
M-F – 8:30 AM – 5:30 PM
From 240 take exit 2A toward S Western Ave.
Head South on Western Ave. Turn right after the Bank of America on SW 89th st.
The office will be on the left in 0.6 miles.
Why Choose Our Oklahoma City Personal Injury Lawyers?
Carr & Carr is dedicated to protecting the rights and interests of people who have been injured due to the negligence or recklessness of others. Our firm was founded in 1973 and since then, we've represented injured clients across Oklahoma and recovered millions of dollars in compensation.
Here are some of the benefits of letting us handle your injury claim:
Years of Dedication and Experience: Carr & Carr has been advocating for injury victims in Oklahoma City for over 50 years. We take great pride in the long-standing client relationships that have built our reputation as a leading Oklahoma City personal injury firm.
A Strong Track Record: We are experienced trial attorneys with proven success in a wide range of accident injury cases. Should negotiations fail to achieve the desired result, we aren't afraid to provide aggressive representation before a judge and jury.
Superior Quality Legal Representation: Our lawyers have received public recognition for their extensive experience and ability. In addition to receiving industry-related awards, they have been featured in the media on subjects like dangerous toys, slip-and-fall accidents, and uninsured motorist accidents. Their decades of combined experience often secure the best results for clients.
To us, you're not a number. You're someone who has been injured by another party's negligent actions and should not face the burden of your recovery alone. If you have been in a serious accident that has affected your life, our award-winning legal team can help get you the compensation you need to face the future. Carr & Carr does not collect a fee unless we win, so you have nothing to lose by scheduling a free consultation today.
Pursuing Compensation in Oklahoma City Personal Injury Cases
If you are injured in a situation where you are less than 50 percent at fault, you may be able to file a personal injury claim. In Oklahoma City, a successful personal injury claim may allow you to collect damages in the form of financial compensation. There are two types of damages in Oklahoma personal injury claims:
Noneconomic damages: Intended to address subjective (non-quantifiable) consequences, such as emotional distress, pain and suffering, and loss of enjoyment.
Economic damages: Financial compensation for relevant, quantifiable expenses, such as medical bills, property damage, and loss of income or earning potential.
Under Oklahoma law, there is no limit on the amount of economic damages that can be awarded in a personal injury lawsuit.
According to the Oklahoma Highway Safety Office, 762 people were killed in traffic accidents in the state in 2021. Thousands more suffered serious injuries. The most common causes of car accidents include:
DUI: Drinking and using drugs can impair a motorist's ability to drive safely and respond to hazards on the road.
Distracted Driving: Examples of distracted driver behaviors include texting, surfing the web, using the GPS, and other actions that take the driver's attention off the road.
Speeding: Automotive accidents may occur if a driver exceeds the speed limit or drives too fast for the current road conditions.
Aggressive or Reckless Driving: Running red lights, weaving in and out of traffic, and exhibiting road rage are all examples of reckless and aggressive behavior.
Fatigued Driving: The effects of driving while tired are similar to those of driving under the influence and can lead to devastating accidents.
Ignoring Traffic Signs and Signals: To ensure safe and efficient traffic flow, stoplights, stop signs, and crosswalk signals must be obeyed. Failure to do so has not only resulted in car crashes, but motorcycle accidents, pedestrian accidents, and bicycle accidents.
Too many drivers exhibit dangerous driving behaviors that can cause injury to people in other vehicles. If another driver was responsible for your accident, Carr & Carr can help you pursue compensation from them.
Truck Accident Lawyers
Due to their massive size and weight, commercial trucks are some of the most dangerous vehicles on roadways. For this reason, failure to operate these vehicles with appropriate care and caution can result in a devastating accident. At Carr & Carr, we have the experience necessary to represent clients in cases involving:
Driver error due to DUI, fatigued driving, speeding, and more
Negligent hiring practices on the part of the trucking company
Hours of service violations
Failure to inspect and maintain vehicles
Improper loading
Truck malfunction due to defective brakes, faulty tires, insufficient underride protection, and more
Truck accident claims can be difficult due to the complex industry rules involved. If you or someone you love has been injured in a truck accident, we can help you take action. Get in touch with the caring legal professionals at Carr & Carr today to discuss the possibility of filing an injury claim.
Motorcycle Accident Lawyers
Compared to the occupants of passenger vehicles, motorcyclists are unprotected. Even if they wear a helmet, a collision can result in a traumatic brain injury, spinal cord injury, broken bones, and other life-altering motorcycle accident injuries.
At Carr & Carr, we know how devastating a motorcycle crash can be for the rider. When someone else's negligence caused the collision, you should not be responsible for covering your medical bills and rebuilding your life on your own. Let us help you hold the at-fault party accountable and secure the money you need to get your life back on track.
Premises Liability Lawyers
It is the responsibility of property owners to ensure that guests are not harmed by unsafe conditions on their property. Since they own these establishments, they need to be aware of the potential dangers that visitors may encounter and address them before any harm occurs.
Sadly, this responsibility is not always met, leading to potentially dangerous accidents and serious injuries. Examples of negligent actions or omissions include:
Poor maintenance practices
Loose or bunched-up mats, carpets, or rugs
Staircases with damaged steps and/or missing steps
Uneven or cracked sidewalks
Wet or slippery floors
Inadequate lighting
Negligent security
Over the last five decades, our skilled and compassionate attorneys have helped countless injury victims achieve results. If you have been injured on someone else's property, we will investigate thoroughly and determine whether you are entitled to compensation.
Wrongful Death Accident Lawyers
The loss of a beloved family member is one of the most painful experiences in life. Besides the emotional support and companionship that a deceased loved one may have provided, there are many instances in which a family may have depended on him or her financially. In this case, immediate family members may be able to get financial compensation to cover medical bills, funeral expenses, and other costs associated with this tragedy.
Oklahoma's wrongful death laws can be complicated, so you should hire an Oklahoma City personal injury lawyer for help with your claim during this difficult time. The team at Carr & Carr has the resources, legal experience, and determination needed to hold a negligent party responsible for your loss.
Determining Fault in Oklahoma City
If you're thinking of pursuing a personal injury case, it's essential to understand how liability works under Oklahoma law. The state observes a modified comparative fault law, which means that a victim may be found to be partially at fault for their injury.
For example, if a person is injured after falling into a hole at a construction site, they may be partially liable if they ignored visible warning signs pointing out the danger. Each party involved in the situation is generally assigned a percentage of liability. A party who is more than 50% liable may not collect compensation.
Modified comparative fault laws often come into play after car accidents that involve multiple vehicles. For example, if there is a collision between two cars where one driver was speeding but the other ignored a stop sign, each person will probably be assigned some percentage of fault for the accident.
Oklahoma's comparative fault laws often make it very difficult to understand liability in a personal injury case. A highly qualified personal injury attorney can help victims understand how the state's fault laws apply to their cases.
Meet Our Oklahoma City Injury Attorneys
Our attorneys fight for your rights, whether your claim involves an insurance company, a huge corporation, or a federal, state, or local governmental agency.
Our lawyers have helped people who have suffered a wide range of injuries including catastrophic brain and spinal injuries. These injuries occurred in automobile collisions, railroad accidents, oil field blowouts, plane crashes, elevator malfunctions, and slip-and-fall accidents, to name just a few circumstances.
If you've been injured, do not hesitate to contact our office and schedule your free consultation.
C. Greg Smart
Greg Smart joined the firm of Carr & Carr in 2006.
Before joining the firm, he was associated with the law firm of Brady, Schaulat & Falsetti in Oklahoma City, where he concentrated his practice on personal injury and negligence litigation.
That included representing people in semi and auto accidents, premises liability, product liability, nursing home negligence, and insurance law disputes.
Read the Rest of Greg Smart's Bio here.
---
Thomas K. Ventura
Thomas K. Ventura began working at Carr & Carr in the Oklahoma City office in 2013. An experienced personal injury attorney, he spent the first eight years of his career working for another local law firm.
Thomas has focused his entire legal career on helping people injured as a result of motor vehicle accidents, slip and falls, dog attacks, and many other types of injuries.
He has negotiated with insurance companies and tried cases to juries resulting in millions of dollars recovered on behalf of his clients.
Click here for his complete biography.
---
Christopher L. Brinkley
Chris Brinkley has called Oklahoma home for nearly his entire life.
After earning his undergraduate degree in aerospace engineering. Chris returned to school at the University of Tulsa College of Law where he was a member of the Phi Delta Phi legal honors fraternity and graduated with a Juris Doctor in 1994.
Chris has focused his practice on product liability, wrecks caused by tractor-trailers, and other areas of personal injury.
You can find Chris's full bio here.
---
Brian A. Williams
Brian A. Williams joined the Oklahoma City Carr & Carr office in May of 2017. Previously, he spent 11 years representing Oklahomans as a personal injury attorney in federal, state, and workers' compensation courts.
Brian has spent his entire career focused on cases involving Social Security, wrongful death, slips and falls, car accidents, and on-the-job injuries.
With more than 1,000 cases resolved, resulting in millions of dollars of settlements, Brian is not afraid to stand up to insurance companies and corporations. His favorite part of his job is advocating for his clients. Click here for his full bio.
---
Blake Beeler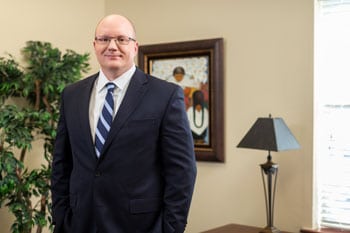 Blake Beeler was born and raised in Oklahoma City, Oklahoma. He graduated from Casady School in 1994. Beeler attended the University of Oklahoma graduating with a degree in history in 1998. He then attended the University of Oklahoma College of Law graduating in 2002.
Blake has spent the bulk of his career representing persons injured by the negligence of others. He has litigated cases in all four corners of the state as well as all three Federal District Courts in Oklahoma.
Click here for Blake's full bio.
---
Ryan Dexter
Ryan Dexter has focused his legal career representing clients in Social Security Disability cases for over 10 years. He has helped thousands of people across the United States who have become unable to work due to various physical or mental impairments.
Dexter has represented clients at all levels of appeal with the Social Security Administration and handled Social Security appeals to the United States District Court. Dexter understands that when injury or illness interferes with a person's ability work, it puts that person in a vulnerable position financially, mentally, and emotionally.
Click here for Ryan's full bio.
FAQS
Do I Need to Hire a Personal Injury Lawyer?
Some accident victims wonder whether they need to hire a personal injury attorney to help them with their claim for compensation. When they've incurred high medical bills and are expecting to be out of work for a while, it can be tempting to settle with the insurer as quickly as possible.
While no law states that you have to hire an injury lawyer, it's important to understand that the insurer is not interested in offering you full and fair compensation. Insurance companies stay in business by reducing payouts as much as possible. It may also take time to realize the extent of your injuries- if you accept a settlement now, you can't ask for more money later if your symptoms worsen.
An experienced lawyer at the right law firm will ensure that you receive the care and support you need. They will gather key information like medical records, accident reports, and pay stubs, use this information to help value your claim, and file it before Oklahoma's two-year statute of limitations expires. Once this is done, they can start negotiating a settlement with the insurer. Should a fair offer not be forthcoming, a personal injury lawyer in Oklahoma City can take your case to court and aggressively litigate for the outcome you need.
What is My Injury Case Worth?
Every case is different, so there is no average settlement amount. How much you receive will largely depend on the severity of your injuries, how they are expected to impact your life, and whether you share any blame for the accident.
There are two primary types of damages awarded in Oklahomapersonal injury claims:
Economic Damages: Financial compensation for relevant, quantifiable expenses, such as medical bills, property damage, and loss of income or earning potential. Under Oklahoma law, there is no limit on the amount of economic damages that can be awarded in a personal injury lawsuit.
Non-Economic Damages: Intended to address subjective (non-quantifiable) consequences, such as emotional distress, mental anguish, pain and suffering, and loss of enjoyment of life.
A jury could also award punitive damages if they find that the party who caused your accident has been particularly negligent. In Oklahoma, these damages are capped at $100,000, or the amount of your actual damages, whichever is greater.
Compassionate and Effective Oklahoma City Personal Injury Lawyers
If you or a loved one is recovering from an injury caused by someone else, you know how challenging the emotional and financial consequences can be. Whether the injury was caused by a car accident, a defective product, or nursing home abuse, it's important to know that you may be eligible for financial compensation from the liable party. If you are thinking about pursuing a personal injury case, the Carr & Carr team of expert attorneys can help.
At Carr & Carr, we know how hard it can be for victims to understand Oklahoma's complex comparative fault laws. What's worse, insurance providers and businesses often try to avoid liability or underpay settlements.
We have decades of experience helping victims and their families get fair compensation for their injuries. To schedule a free consultation with a personal injury lawyer in Oklahoma City, call us at (405)-691-1600 or fill out our online contact form.
Oklahoma City Office Tour