Serving Oklahoma Since 1973
Carr and Carr Attorneys at Law, an Oklahoma based personal injury and social security law firm, is excited to announce we have brought on three new attorneys.
Our law firm has been serving injured Oklahomans since 1973 and we are excited to be expanding our practice.
Continue reading below to meet the new additions to Carr & Carr.
Lark Zink, Disability Attorney
Lark Zink graduated from the University of Oklahoma where she obtained her Juris Doctor.
Prior to attending law school, Lark received a Bachelor of Arts in Political Science and French from the University of California at Berkeley.
Click here to read the rest of Zink's bio.
Blake Beeler, Injury Attorney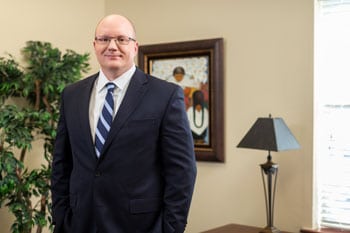 Blake Beeler was born and raised in Oklahoma City, Oklahoma. He graduated from Casady School in 1994. Beeler attended the University of Oklahoma graduating with a degree in history in 1998. He then attended the University of Oklahoma College of Law graduating in 2002.
Blake has spent the bulk of his career representing persons injured by the negligence of others.  He has litigated cases in all four corners of the state as well as all three Federal District Courts in Oklahoma. 
Click here to keep reading Blake Beeler's bio.
Ryan Dexter, Disability Lawyer
Ryan Dexter has focused his legal career representing clients in Social Security Disability cases for over 10 years. He has helped thousands of people across the United States who have become unable to work due to various physical or mental impairments.
Dexter has represented clients at all levels of appeal with the Social Security Administration and handled Social Security appeals to the United States District Court. Dexter understands that when injury or illness interferes with a person's ability work, it puts that person in a vulnerable position financially, mentally, and emotionally.
Visit Attorney Ryan Dexter's bio page for more information.